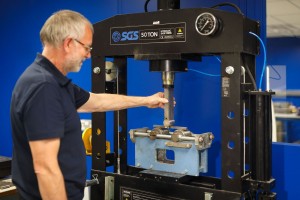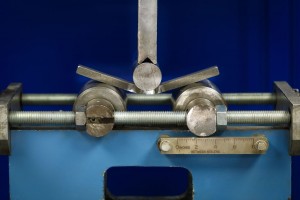 Bend Testing

Bend testing determines the ductility or the strength of a material by bending the material over a given radius.  It is carried out under a variety of test configurations and once the sample has been bent it is then inspected for cracks on the outer surface of the bend.  The system therefore provides important information about the ability of a metal to undergo 'plastic deformation' before fracturing. Bend testing is used extensively by many industrial sectors but it is especially relevant as an integral part of the weld examinations applicable to the construction of Weld Procedures and associated Welder Qualifications when the integrity of a welded joint needs to be fully assessed.
As for virtually all metallurgical testing systems, samples requiring Bend tests have to undergo careful and precise machining prior to being placed in the relevant bending fixture to ensure accurate and reproducible results. Therefore, on receipt of samples the Metaltest UK machinist, technologist and metallurgist will work closely together to ensure that the various processes are performed strictly to the requirements of our Client whilst also ensuring that the applicable Test Standard is fully complied with.
As previously said, Bend testing is carried out under a variety of test configurations and modes and Metaltest UK is equipped to provide Weld integrity analysis by applying:
3-Point Bending
Transverse & Longitudinal weld testing
Face, Root and Side-bend testing
Fracture testing
If you would like to discuss the various applications when Bend testing is particularly appropriate, we will be only too pleased to provide you with more detail and in particular how the services we can supply will benefit your specific requirement.
Copyright 2015 | All Rights Reserved |
LTi